The Studio PoK Knitting Belt
These knitting belts are a redesign of the traditional ones unique to Shetland, which are still used by the knitters there. The device is worn at the right waist or hip where it serves to support the needle in a fixed position. Because the right hand is no longer needed  to hold the needle, it can be used solely to manipulate the yarn. As a result, it is possible to knit faster, with less fatigue, and more even tension.
The Studio PoK knitting belts are made by hand using strong American bullhide and California latigo leathers. They need no special care — the color penetrates the leather and will not wear off. If you want to clean and polish the pad, use a little clear shoe cream and a soft cloth. These belts will last for a lifetime of knitting — the only problem is deciding which color to choose!
You will find more information about the benefits of using a knitting belt here, and instructions for how to use one here.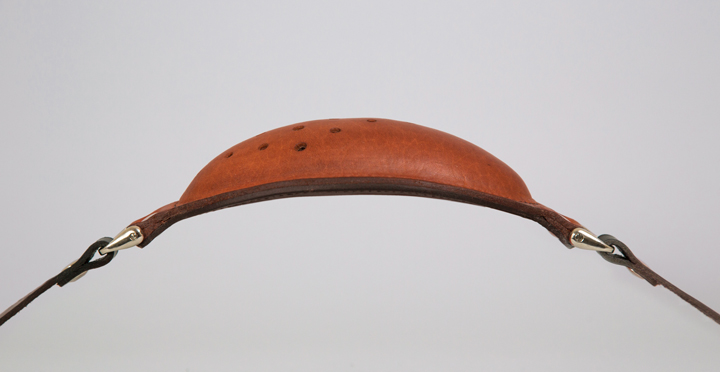 The unique Studio PoK Knitting Belt (patented) is contoured to fit your body. This makes it very comfortable to wear and it will  remain stable as you knit.