Articles By, or about me: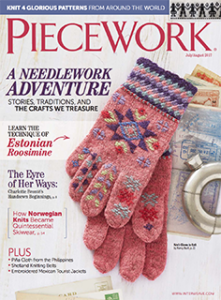 "Preserving the Knitting Belt", by Rachael Matthews, Piecework Vol XXV #4, July/August 2017, Interweave Press.
Rachael Matthews, once owned the well-known knitting shop and art space, Prick Your Finger, in London. She has an interest in knitting sticks and belts, and the article is based on interviews with me.
For more about Rachael, see
www.rachaelmatthews.co.uk/
and on Facebook at Rachael Matthews
Piecework Magazine, has been a treasured Interweave Press publication since 1993, with a focus on needlework, historical knitting, embroidery, lacework, and more.
For print and digital subscriptions and back issues, see:
www.interweave.com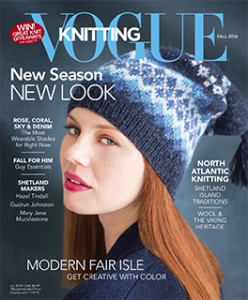 "Shetland Knitting: Then and Now", June Hemmons Hiatt, Vogue Knitting, Fall 2016
The article is a brief history of Shetland and the central importance of knitting in the women's lives and in their local economy.
Vogue Knitting Magazine, has been the premier knitting magazine in the United States for over 30 years, providing articles, patterns, and advice for knitters.
For print and digital subscriptions and back issues, see:
www.vogueknitting.com/subscribe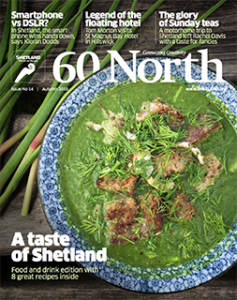 "Holy Knit", by Misa Hay, 60 North Magazine, Issue #14, Fall 2015.
This article was written by Misa Hay, editor of 60 North Magazine, based on an interview she did when I visited Shetland in April 2015.
Find Misa on Instagram @myshetlandgarden.
She now leads tours for those interested in Shetland wool and knitting, See Shetland Wool Adventures, see:
www.shetlandwooladventures.com
60 North Magazine is published by the Shetland Amenity Trust, and contains articles of interest for visitors who want to learn more about life in Shetland.
For print and digital subscriptions and back issues, see:
www.shetland.org/60n/magazine